Robin Bale, Nov 2022.
Live Art Club

Live Art Club is a monthly platform for artists to try out new ideas in a supportive environment. It takes place on the first day of most months at VSSL studio.

Taking the function of a studio as a site of artistic creation, Live Art Club expands the idea of what a studio can be. Rather than imagining a studio as a private, enclosed space, Live Art Club proposes the studio as a place of gathering, where creative experiments take place in dialogue with peers and community.


Join Live Art Club

Do you have part of a new idea, an experiment in working with an audience, a way of moving your body, a series of sounds you're excited by, an unexpected activation of the space, an interruption of tradition, guttural words that want to explode out of you, a re-performance of a forgotten idea or anything else that might look/feel/taste like Live Art?
We want to see it! Share what you've been working on with us at our next event.

Sweaetshops. December 2022.
Lori Lo Bianco
Alicia Radage + Benjamin Sebastian

installation image, courtesy of Marco Berardi & Baiba Sprance.

installation image, courtesy of Marco Berardi & Baiba Sprance.
JUNE 2023
"While distinct in formal approaches, their practices enact a convergence at the thresholds of esoteric, spiritual and more-or-other-than-human domains and utterances."
Launch Event:
6-9pm, Friday the 2nd of June 2023
RSVP for the launch event HERE

Exhibition Opening Hours:
12-5pm, Thursday to Sunday - 1st to 18th of June 2023
Facebook Event Page
Curatorial Interventions:
6-9pm, Friday 2nd of June 2023
Performative interventions from A. Radage & B. Sebastian
RSVP here
6-7pm, Saturday the 17th of June 2023
Tamsin Hong (Curator, Exhibitions - Serpentine Galleries) in conversation with

A. Radage & B. Sebastian
BOOK here

image from the launch event, courtesy of Marco Berardi & Baiba Sprance.

image from the launch event, courtesy of Marco Berardi & Baiba Sprance.
VSSL Studio are proud to present the inaugural offering of the FACET programme, featuring a joint exhibition from artists Alicia Radage and Benjamin Sebastian. While distinct in formal approaches, their practices enact a convergence at the thresholds of esoteric, spiritual and more-or-other-than-human domains and utterances.

Radage's work in performance, sculpture, video and sound, channels their research on neurodiverse experiences and animist practices, ultimately seeking to reconnect with the spiritual and non-human worlds through inter-entity communication. Sebastian's practice as a trans-disciplinary artist-curator is anchored in world-making experiments and processes of bricolage, often employing emotive and esoteric methodologies to subvert normative structures, through the mediums of video, performance, sculpture & installation.


The exhibition will showcase existing works by Radage and Sebastian, presented in dialogue with each other to reveal the underlying connections between their practices. The show's curatorial approach seeks to highlight the artists shared interest in alternative ontologies and their ongoing exploration of more-or-other-than-human perspectives. Through this joint exhibition, Radage and Sebastian invite audiences on a journey to reimagine our relationships with the seen and un-seen (as well as known and unknown) world(s), so that we may continue to consider alternative ways of being.

videos courtesy of Marco Berardi & Baiba Sprance.
ABOUT ALICIA:
Radage's practice manifests through performance, video, sculpture and sound. Their current research looks at the intersection between Neurodiverse experience and Animist practice, looking to ways of communicating and being outside of neurotypical, late capitalism. Their core concern is remembering a fluency in spiritual connection to the more than human. Their practice is activated through intuiting forms of interspecies communication. Alicia has taught at Universities on Fine Art and Theatre courses for both MA and BA courses. They have shown their work within the UK and internationally (Whitstable Biennale, MOMA Bogotá, Venice International Performance Art Week, GIANT Gallery, SPILL Festival, Perfolink Chile, Parlour London, Meno Parkas Lithuania). They have been supported by Arts Council England, The British Council and Shape Arts. Alicia graduated from The Central School of Speech and Drama in 2011 with a Distinction in Advanced Theatre Practice.

aliciaradage.com

ABOUT BENJAMIN:
Benjamin Sebastian (b. Cairns*, AUS. 1980) is a trans-disciplinary artist-curator based in London. Their practice might be imagined as a constellation of mirrors; reflecting aspects of the body, time & space they inhabit - or - as world-making experiments; manifested through processes of bricolage, assemblage & ritual. Sebastian understands their artistic work as an anarcho-queer technology in the aid of queer, de-colonial & trans-humanist endeavour - activated through emotive, erotic & esoteric methodologies - driven by their neuro-divergent and non-binary experience. Sebastian received their BA Fine Art (HONS) from the University of Lincoln and is currently enrolled on the MA Curating Art and Public Programmes through Whitechapel Gallery. They are Chief Curator & Co-founding Director of ]performance s p a c e [ (]ps[) and Co-founding Co-director of VSSL Studio. Some of their most recent projects have included; guest curating the 'INTERSECT' series at LADA, speaking on the symposiums; 'Art, Memory & Place' at Turner Contemporary and 'Un-dating the Obvious; Wired Love, Desire and Care' at IKLECTIK, curating 'PSX: A Decade of Performance Art in the U.K.' on behalf of ]ps[, exhibition of their solo show; 'Working With Entities//Setting Intent' at VSSL Studio, and performance of their live installation; '3 Reflections²' at the I.C.A.

*The Gimuy Walubara Yidinji and the Yirrganydji peoples are the traditional custodians of Cairns and the surrounding district. Gimuy is the traditional place name for the area Cairns City now occupies. Sebastian wishes to pay respect to the Gimuy Walubara Yidinji and Yirrganydji Elders, both past and present, and extend that respect to all Indigenous Australians.

benjamin-sebastian.com

C0041: Time's Up - Luca Bosani - 2023. Image curtesy of the artist.
C0041: Time's Up - Luca Bosani - 2023. Image curtesy of the artist.
PV
17th March, 6-9pm
Performance activation with:
Gianna T and Dino Desica

EXHIBITION OPEN
18-24th March 12-5pm

FINISSAGE
24th March, 6-9pm
7pm (sharp): Intervention from Luca Bosani
with CJ Calderwood

WORKSHOP OPEN CALL
On the 25th of March from 11-5pm - Bosani will run a workshop on persona-personality. The workshop will include an artist's lecture, group discussions and an afternoon of collective performance experimentation. Limited availability, daily expenses paid (£15). Places are limited.

Since October 2020 Luca Bosani has worked as a private investigator and UPO specialist for TLSB (an imaginary company). After facing several conundrums and mysterious occurrences, is their time as a PI coming to end?

C0041: Time's Up explores the intersection of persona/personality. Where does an alter-ego end and the ego begins? Can the same persona be adopted by various personalities? What is the impact of externality - clothing, make-up, shoes, hairstyle - on one's essence? - Through a series of portraits installed at VSSL Studio, together with a selection of Mini UPOs - 'investigator(s)' will introduce you to Bosani's practice.

Taking inspiration from punk albums such as Time's Up, Buzzocks (1978), Destroy the System, Varukers (1979) and Damaged, Black Flag (1981) - Luca's installation and accompanying performance activation reflect on punk rebellion. Does growing up mean abandoning dreams of changing the system? - The apparition of a restless queer figure will interrupt the regular unfolding of the evening, - highlighting the plurality and fluid nature of the artist's identity - in a desire to explode gender binaries and take distance from past versions of themself - continuing reinvention.

The installed images were captured by photographer Davide D'Ambra, on the occasion of the exhibition - or conundrum; C0036: The Upside-down Rainbow, at Osservatorio Futura, as part of Artissima (2022). This work has been made possible with financial support from Arts Council England.
Luca Bosani photographed by Davide D'Ambra.
Luca Bosani photographed by Davide D'Ambra.
Luca Bosani (he/they b.1990, Rho, IT) is a gender non-conforming neurodivergent multimedia artist. In the last two years, he developed his identity and personality as TLSB private investigator & UPO specialist.

Taking the cinematographic stereotype of the private investigator (e.g. Humphrey Bogart as Philip Marlowe), Luca dismantles this hyper-masculine identity to introduce a queer private investigator in drag.

As a private investigator in drag, Luca works for a fictional company (TLSB), compiles regular Reports for them, wears uniforms daily (currently a red outfit), works with talented colleagues (detectives, artists, musicians) and is constantly busy trying to solve intricate conundrums.

VENUE & ACCESS
Location & access
CONTACT
benjamin@vssl-studio.org
Fest En Fest

DEAD Unplugged
by Beauty and the Beast
An extract of DEAD by Beauty and the Beast performed by Amanda Petrea (SE) and Halla Olafsdottir (IS/SE) with food and drink.
Beauty and the Beast is a fake band, a dance performance, a party, a workshop and a life long collaboration between the choreographers Amanda Apetrea, Halla Ólafsdóttir and some of their friends. Their latest dance performance is called DEAD.
DEAD unplugged is a poetry reading, where the duo reads their favourite parts from their dance performance DEAD. Exploring expressions of sexuality, body and gender, flirting with the power of horniness and lust. A power that they believe can move mountains. The reading will happen in a cosy casual setting so come as you are.
Halla Ólafsdóttir (IS) and Amanda Apetrea (SE)

For more than two decades the duo Beauty and the Beast, Amanda Apetrea and Halla Ólafsdóttir have remained a mythical force in dance and have created new lyrical expressions with their gravelly voices and poetic dances – musing over love, heartbreaks, friendship and togetherness, war, death and sex
Their new show, DEAD, is a pornographic and dystopian dance performance that merges dance, poetry, music, the beauty of darkness and the in between, seeing inner and outer realities. Exploring expressions of sexuality, body and gender flirting with the power of horniness and lust. A power that they believe can move mountains.
The show will be performed under consent in agreement with its audience, which means that anyone who enters agrees to whatever will happen during the show. It also means that anyone can leave at any time. As always it is about you and them and all the love in between.
Time & Date

Saturday 26 November, 7pm - 12am
>
Location & access
>
info@vssl-studio.org
Tickets
Tickets are £3-£5,
buy them here
.
Credits & Contact

Fest en Fest is an international festival of expanded choreography initiated and curated by
H2DANCE
. This project makes space for artists and audiences to come together and present performances and ideas, twisting and turning the definition of what choreography can be.
>
more
Gathering in a Time of Plague
VSSL studio programme
November 2020 - June 2021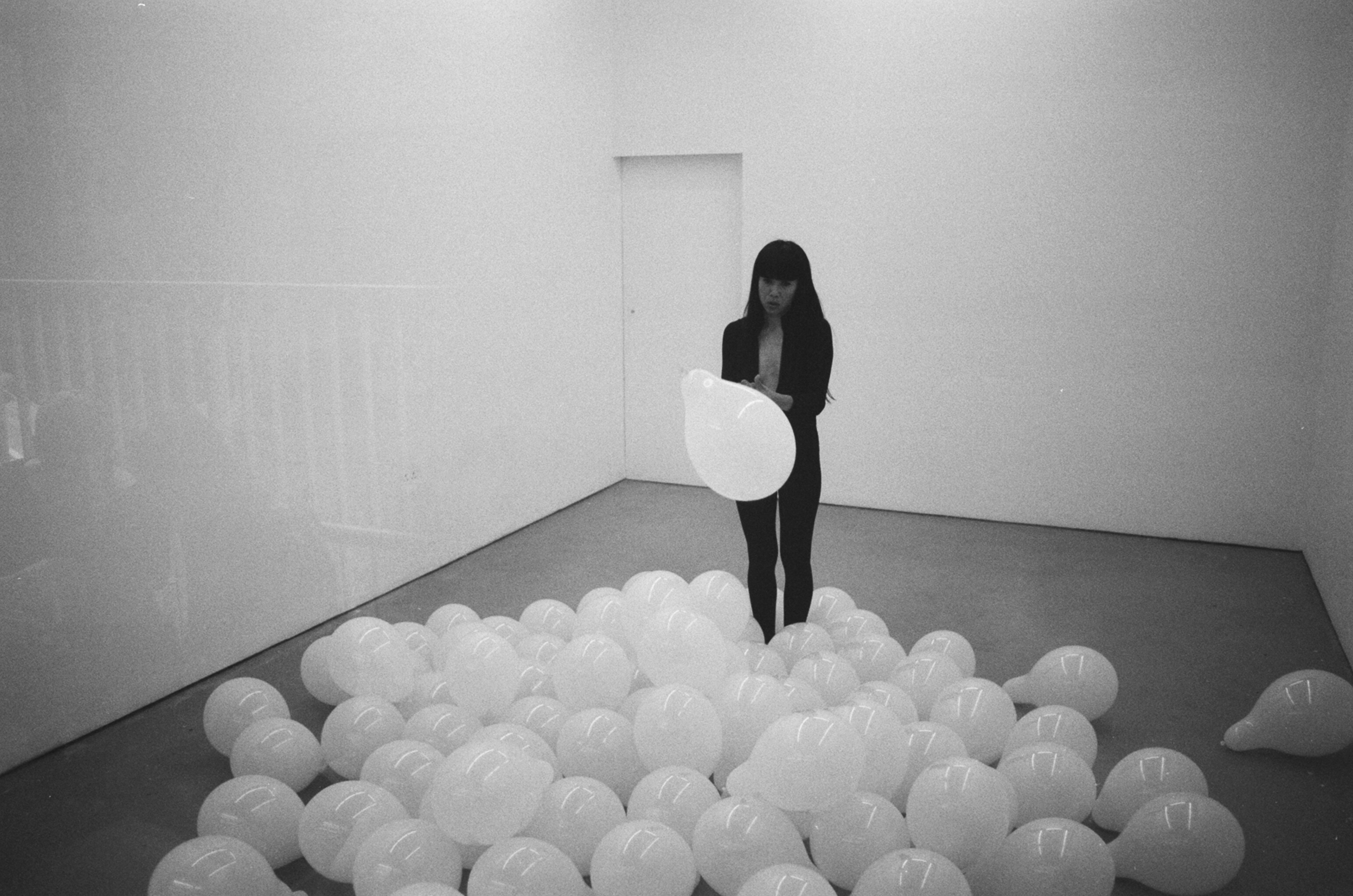 Kimvi, VSSL studio, 2021. Photo by Zack Mennell.
VSSL was established in a time of plague. In response to the conditions of pandemic, we intend that the studio remains a place where performance practices may continue to unfold, unmediated by the screen. Our work continues to foreground the power and immediacy of live performance.
Gathering in a Time of Plague
was VSSL's first public programme, and featured a series of developmental and performance opportunities, which were programmed by invitation and
open call
.
Artists

Kelvin Atmadibrata
Adriana Disman
Chinasa Vivian Ezugha
Jasper Llewellyn
E.M. Parry
Niya B
Shaun Caton
Jade Blackstock
Kimvi


Curators
Benjamin Sebastian
Joseph Morgan Schofield

The programme was funded by public funds from Arts Council England, and by VSSL studio and ]performance s p a c e[.

With thanks to Ash McNaughton.



Kelvin Atmadibrata, PSX exhibition launch, VSSL studio, 2021. Photo by Zack Mennell.
As an expansion of my post-graduate investigation of the performing masculine body, I was introduced to the language of queer abstraction and minimalist erotica that I have since been experimenting and developing within my illustration of the mecha and transhumanist fantasy. The past months of lockdown and consequential shift towards the digital have also evoked queries upon my personal pace as I struggled to keep up with both the pandemic and the online, both that have more than ever, evolved with such robust momentums. I plan to utilize the studio space, peer and mentoring support with VSSL to reflect on these observations and refocus my productive engine with the ultimate aim of progressing my current artistic inquiries.
-Kelvin Atmadibrata

VSSL interviewed Kelvin about his practice, the relationship between fantasy, the erotic, drawing and performance, and the importance of studio culture.

Kelvin Atmadibrata, PSX exhibition launch,
VSSL studio, 2021. Photo by Zack Mennell.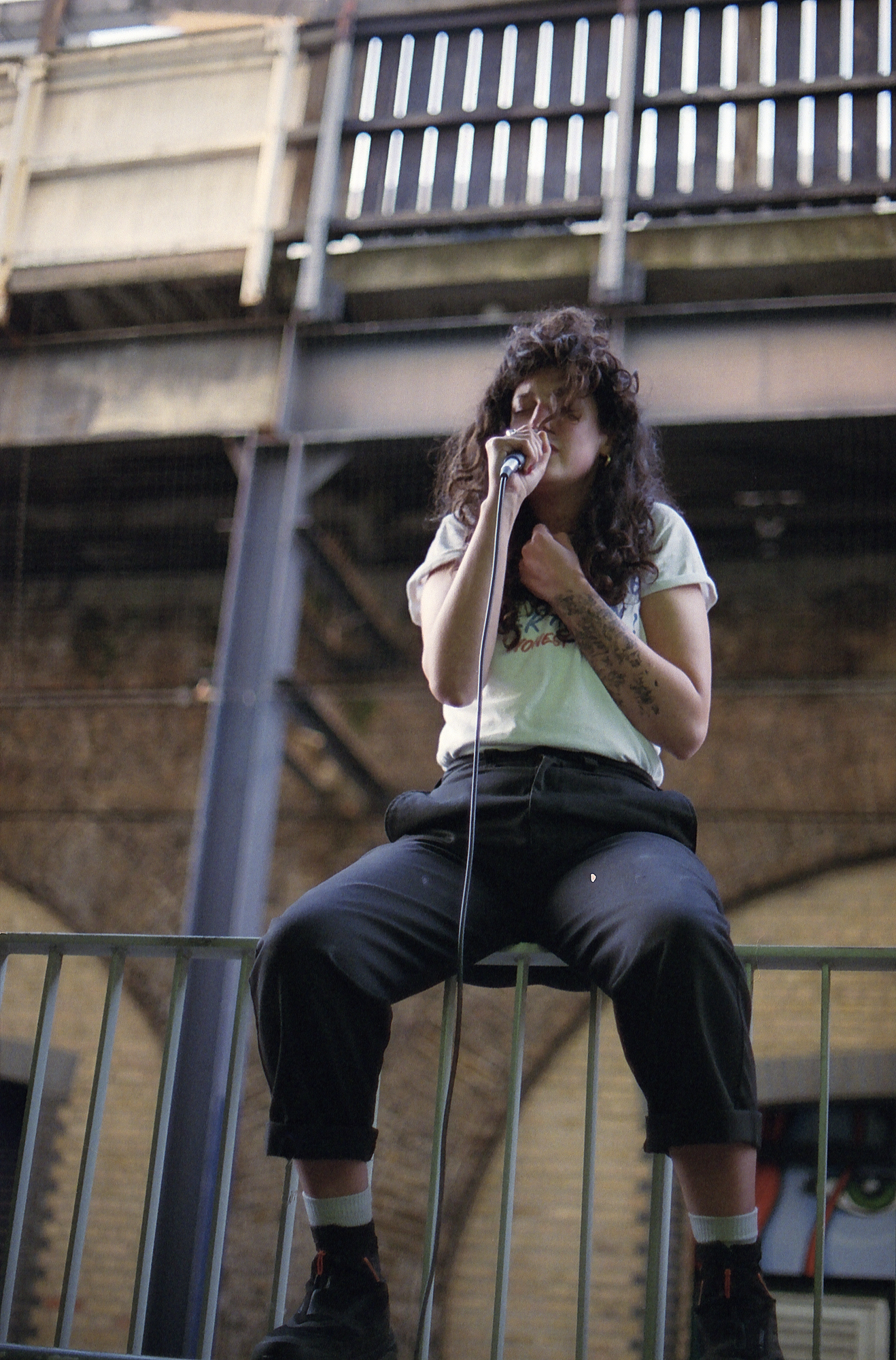 Adriana Disman, PSX exhibition launch,
VSSL studio, 2021. Photo by Zack Mennell.

The love of my life is performance art. In the current context in which we are not able to witness the work of others, my own practice has shrivelled. It has no physical or mental space. It needs the nourishment and accountability to more creatures, to discover how it is now and what serves it. Through the support of this residency, I intent to cultivate a nourishing studio culture that mobilises potential exchange between artists to re-energise my commitment to my own practice. I am not looking for a simple physical space from which to transplant an already known practice, I'm looking for sparring partners who will challenge and push me with love and become part of the space that will form the practice. I dream that in this way, I might find some delicious edges from which to push off and kick out into a new ocean. Performance is vast.
-Adriana Disman



Kelvin and Adriana presented works made during the residency at the exhibition launch for
PSX: a decade of performance art in the UK
.
Kelvin Atmadibrata, PSX exhibition launch, VSSL studio, 2021. Film and editing by Baiba Sprance and Marco Beradi.


Adriana Disman, PSX exhibition launch, VSSL studio, 2021. Film and editing by Baiba Sprance and Marco Beradi.

Performance Programme
→ Gathering in a Time of Plague
The Gathering in a Time of Plague programme featured seven live performance works by
Chinasa Vivian Ezugha
,
Jasper Llewellyn
,
EM Parry
,
Niya B
,
Shaun Caton
,
Kimvi
and
Jade Blackstock
. unfolding in and around VSSL in the spring and early summer.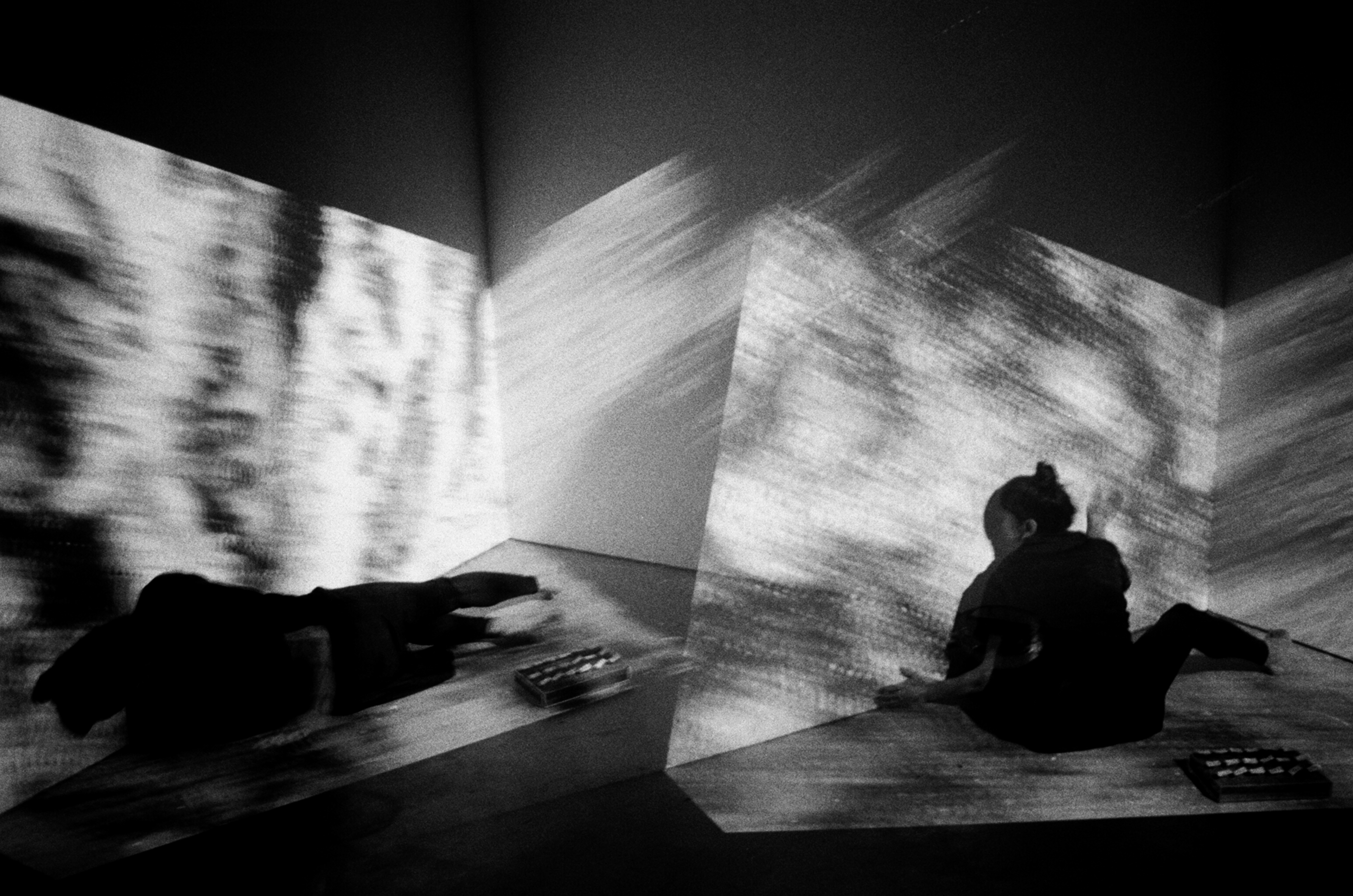 Niya B, VSSL studio, 2021. Photo by Zack Mennell.


Gathering in a Time of Plague compilation video. Videography and editing by Baiba Sprance and Marco Berad

Tongues

Chinasa Vivian Ezugha
Saturday 17th April, 2021

Imagine a new space, a space of possibilities- vocality and movement. The mouth is the new theatre. RE-imagining space and the placement of the body in space, this performance will use the tongue as the point of entry into a new performative space. ( I may need to speak with you to expand )

Tongues is a one-to-one performance by Chinasa Vivian Ezugha, with each encounter lasting around 5 minutes.

Chinasa Vivian Ezugha is a Nigerian-born artist living and working in Hampshire. Her work looks at the transition of Black women and their identity within culture from colonised subjects to emancipated figures. Vivian works predominantly in performance, using the medium to decontextualise and reconstruct what it means to be alive in this present time andtoprotest for a worldwhere we are all allowed to dream. She is the founder of Live Art in Wymondham, a one-day site-specific series of events that aimed to bring emerging artists working in live art to rural Norfolk.

Her work has been presented in venues across Europe, America and the UK, including In Between Time Festival (Bristol, 2017),SPILL Festival (Ipswich, 2018) and Rapid Pulse International Performance Art Festival (Chicago, 2015). She is the winner of the New Art Exchange Open Main Prize (2019), and a recipient of the Santander Universities Post Covid-19 Performance Making Enterprise Award (2020).

vcezugha.wixsite.com/work-in-progress

Jasper Llewellyn
Saturday 8th May 2021
Working to the tidal rhythm of the Thames, Jasper Llewellyn's work began on the shore of the river, before continuing at VSSL.
The work for VSSL contributes to a larger body of action-based interventions that Llewellyn has undertaken on the Thames foreshore in Deptford since mid-2020, most of which have been conducted without an audience. This ongoing series of actions are embodied attempts to attune to the diverse array of affective and nonhuman entities that comprise the assemblage that we term 'the Thames', reimagining our relationship to the river as a whole in the process.
Jasper Llewellyn is an artist working with actions, sounds and words. His ongoing PHD research project involves the deployment of various embodied artistic strategies in order to take an expanded view of improvisation, treating it both as a methodology for living and art-making. He makes music with the project 'caroline' and has had writing published in Frieze magazine.
www.jasperllewellyn.co.uk/

Jasper Llewellyn, 2021. Photos by Zack Mennell.
VSSL studio
Enclave, 50 Resolution Way
Deptford, London, UK
SE8 4AL
Contact: info@vssl-studio.org
Join our
mailing list
& follow our
Facebook
&
Instagram
.
VSSL studio logo design by Ben Normanton.
---