Gathering in a Time of Plague
We have established VSSL in a time of plague. In response to the conditions of pandemic, we intend that the studio remains a place where performance practices may continue to unfold, unmediated by the screen. Our work continues to foreground the power and immediacy of live performance.
Our first public programme -
Gathering in a Time of Plague
- involves a number of developmental and performance opportunities, which were programmed by invitation and
open call
.
The programme is made possible thanks to public funding from Arts Council England.
FULL PROGRAMME
Forcing Hyacinth
, Kelvin Atmadibrata, 2019. Helsinki. Photo by Julius Töyrylä.
Studio Residencies


Our studio community will be joined by artists Kelvin Atmadibrata and Adriana Disman, who will undertake seven month studio residencies at VSSL, supported by Arts Council England and ]performance s p a c e[.



As an expansion of my post-graduate investigation of the performing masculine body, I was introduced to the language of queer abstraction and minimalist erotica that I have since been experimenting and developing within my illustration of the mecha and transhumanist fantasy. The past months of lockdown and consequential shift towards the digital have also evoked queries upon my personal pace as I struggled to keep up with both the pandemic and the online, both that have more than ever, evolved with such robust momentums. I plan to utilize the studio space, peer and mentoring support with VSSL to reflect on these observations and refocus my productive engine with the ultimate aim of progressing my current artistic inquiries. -Kelvin Atmadibrata

VSSL interviewed Kelvin about his practice, the relationship between fantasy, the erotic, drawing and performance, and the importance of studio culture.

The love of my life is performance art. In the current context in which we are not able to witness the work of others, my own practice has shrivelled. It has no physical or mental space. It needs the nourishment and accountability to more creatures, to discover how it is now and what serves it. Through the support of this residency, I intent to cultivate a nourishing studio culture that mobilises potential exchange between artists to re-energise my commitment to my own practice. I am not looking for a simple physical space from which to transplant an already known practice, I'm looking for sparring partners who will challenge and push me with love and become part of the space that will form the practice. I dream that in this way, I might find some delicious edges from which to push off and kick out into a new ocean. Performance is vast. -Adriana Disman
Le avions de papier
, Kelvin Atmadibrata, 2016. Singapore. Photo: Aziz Amri.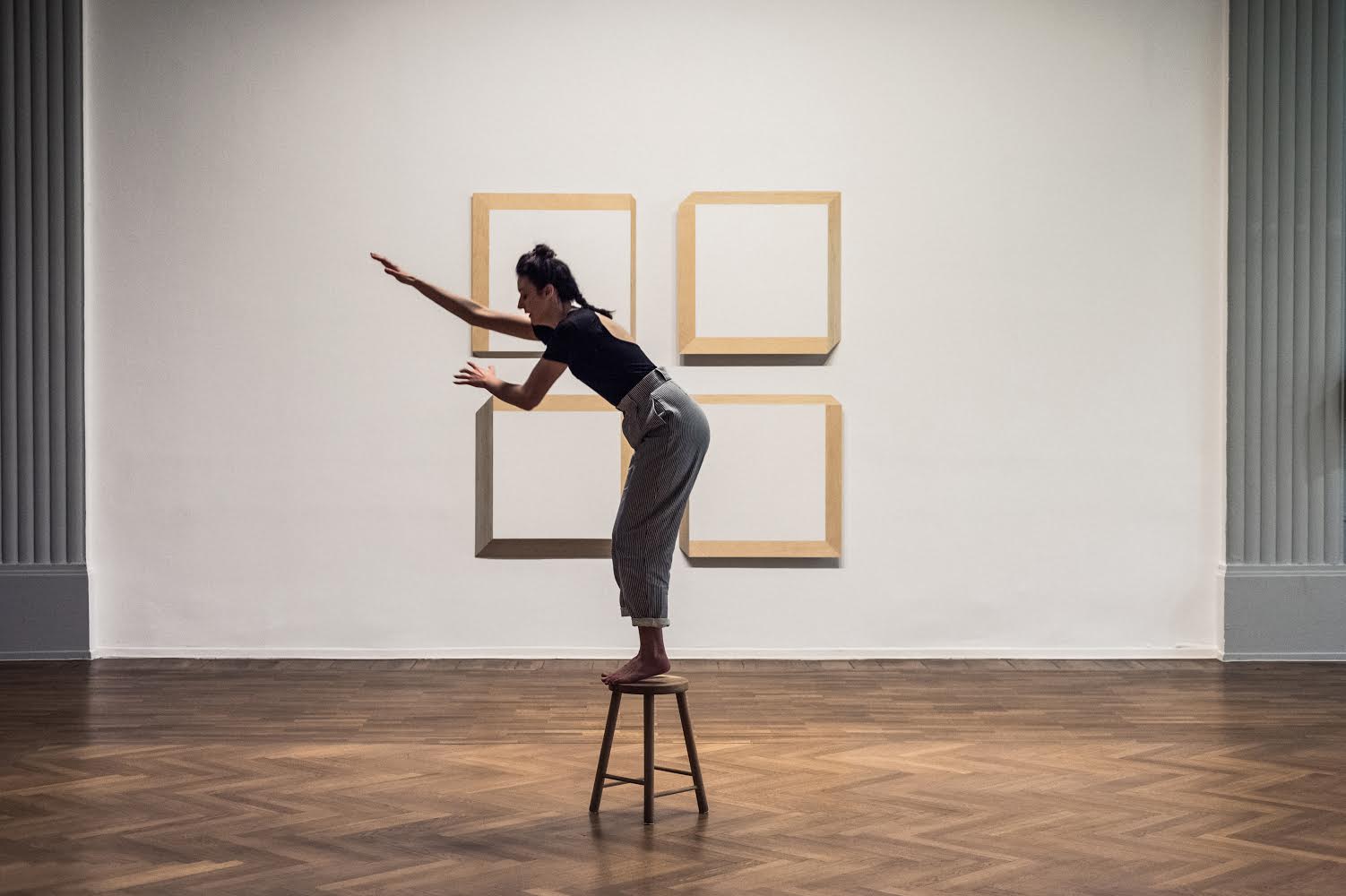 Thresholding,
Adriana Disman, 2019. Curated by Caroline Andrieux at Casino Luxembourg - Forum d'Art Contemporain in Luxembourg City. Photo: Mike Zenari.
Performance Programme



Gathering in a Time of Plague also features seven live performance works taking place at VSSL in May, June and July.

We will host works by Chinasa Vivian Ezugha, Jasper Llewellyn, EM Parry, Niya B, Shaun Caton, Kimvi and Jade Blackstock.

Booking information and further details about the performances will be added here shortly.
Chinasa Vivian Ezugha: tongues
4pm, Saturday 17th April

Imagine a new space, a space of possibilities- vocality and movement. The mouth is the new theatre. RE-imagining space and the placement of the body in space, this performance will use the tongue as the point of entry into a new performative space. ( I may need to speak with you to expand )

Tongues is a one-to-one performance by Chinasa Vivian Ezugha, with each encounter lasting 5 minutes.


Audiences will be asked to wear a mask for the duration of the performance, and we will temperature check audiences on arrival.



Chinasa Vivian Ezugha is a Nigerian-born artist living and working in Hampshire. Her work looks at the transition of Black women and their identity within culture from colonised subjects to emancipated figures. Vivian works predominantly in performance, using the medium to decontextualise and reconstruct what it means to be alive in this present time andtoprotest for a worldwhere we are all allowed to dream. She is the founder of

Live Art in Wymondham

, a one-day site-specific series of events that aimed to bring emerging artists working in live art to rural Norfolk.

Her work has been presented in venues across Europe, America and the UK, including In Between Time Festival (Bristol, 2017),SPILL Festival (Ipswich, 2018) and Rapid Pulse International Performance Art Festival (Chicago, 2015). She is the winner of the New Art Exchange Open Main Prize (2019), and a recipient of the Santander Universities Post Covid-19 Performance Making Enterprise Award (2020).

vcezugha.wixsite.com/work-in-progress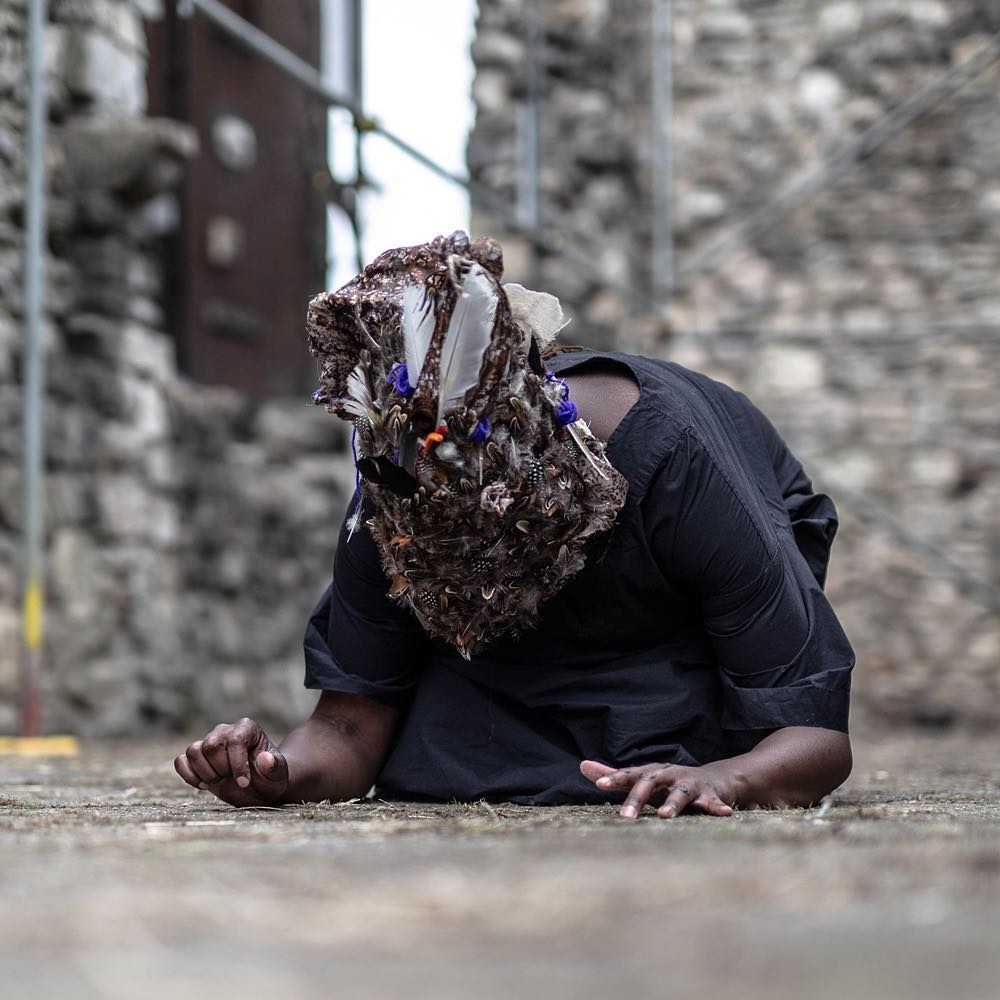 Image:
Rara Avis, the perception of the Gothic
,
ArtVault, Southampton, England, 2018.
Image courtesy of the artist.
Jasper Llewellyn

Saturday 8th May

Working to the tidal rhythm of the Thames, Jasper Llewellyn's work will begin on the shore of the river, before continuing at VSSL.

The work for VSSL contributes to a larger body of action-based interventions that Llewellyn has undertaken on the Thames foreshore in Deptford since mid-2020, most of which have been conducted without an audience. This ongoing series of actions are embodied attempts to attune to the diverse array of affective and nonhuman entities that comprise the assemblage that we term 'the Thames', reimagining our relationship to the river as a whole in the process.

Mindful of the pandemic, and the continuing restrictions on large outdoor gatherings, audiences are invited to book limited places for the riverside element of the performance (beginning at 4pm in Deptford). We encourage those joining us for the performance to make use of the free rapid lateral flow tests offered by the NHS shortly before attending the event.

We will email ticketholders nearer the 8th to confirm the exact meeting point.




Jasper Llewellyn is an artist working with actions, sounds and words. His ongoing PHD research project involves the deployment of various embodied artistic strategies in order to take an expanded view of improvisation, treating it both as a methodology for living and art-making. He makes music with the project 'caroline' and has had writing published in Frieze magazine.

www.jasperllewellyn.co.uk/
Image: Still from
untitled (chain),
2020.Image courtesy of the artist.
The Sunday Skool for Misfits, Experimenters, and Dissenters
is a new free art skool devoted to performance, and created for outsiders, subversives, transgressors and nonconformists. It has been established by Skool mistresses Martin O'Brien, Shabnam Shabazi, and Joseph Morgan Schofield. The idea evolved from a desire to create free art education systems based on processes of mentorship and support.
The Sunday Skool
is dedicated to a politics of dissent and experimentation. We want to reach those that are less privileged and those traditionally denied access to the arts. The Skool is dedicated to creating a space for all, especially those often excluded because of race, class, disability, gender and sexuality.
This open call is for participants for the first iteration of
The Sunday Skool
. It is a twelve-week long course for artists and creatives working in performance and live art, and other experimental practices on the edge or in between forms. It is designed for those in the early stages of their practice (any age), those with experience in other art forms but who are beginning to work with performance, and those who are struggling to maintain a practice during the lockdown restrictions.
The Sunday Skool
will take place online, using zoom, and is open to people anywhere in the world. Sessions will be delivered in English.
The participants will undertake workshops led by Skool mistresses and guest artists, talks, lectures and discussions by creatives and scholars, peer-led crit sessions, individual mentor sessions with the Skool mistresses, and a final showing of work in progress or projects in process. The course will run every Sunday from 18th April to 4th July (12 weeks). Participating artists will be expected to be available 10.00 – 16.00. (GMT) every Sunday for the duration of the course.
The Sunday Skool
is supported by the Arts Council England and the Wellcome Trust, and hosted by VSSL studio.
Key Dates

Participants Notified: Thursday 18 March
Skool begins: Sunday 18 April
Skool's out for summer: Sunday 4 July




Application Process

To apply for a place in The Sunday Skool for Misfits, Experimenters, and Dissenters, please write (up to 2000 characters) or record an audio/video statement (max 5 minutes) which answers these questions:

· What are you pre-occupied with creatively?

· Why do you want to take part in The Sunday Skool?

In answering these questions we invite creative, poetic or matter of fact answers, and encourage you to think about your way of approaching art, creativity and collaboration.

There is also the option to include up to two links to your work online - these could be links to websites, social media, or to google drive folders.

Open call goes live: Thursday 4 February

Open call closes: Thursday 11 March, 23.59


Access & 'Braver space'
The Sunday Skool
will take place on Zoom and we will use automatic live captioning as provided by Rev.
We have a limited amount of money available to contribute towards expenses incurred while accessing
The Sunday Skool
. This pot of money will be offered on an opt-in basis, aimed at those participants who self-identify as in need. We will discuss the allocation of this money with those who opt-in.
We will discuss the holding of 'braver space' and any access needs with participants in advance of the programme starting, remaining committed and open to evolving conversations around access throughout.
Contact
If you have any questions about
The Sunday Skool
or the application process, please email Joseph:
josephmorganschofield@gmail.com
.
Skool Mistresses
Martin O'Brien

Martin O'Brien is an artist, theorist, teacher, and zombie. His performance, writing and video art explores what it means to be born with a life shortening disease, politically and philosophically. Martin has cystic fibrosis and all of his work and writing is an act of resistance, a celebration of sickness and an attempt to keep breathing. He is best known for his long durational solo performances, and his collaborations with the pioneering body artist, Sheree Rose. His work has been written about in books and articles, including the major book about his work 'Survival of the Sickest: The Art of Martin O'Brien'. He has shown work throughout the UK, Europe, US, and Canada. Martin is lecturer in performance at Queen Mary University of London.
www.martinobrienart.com
Martin O'Brien, photo courtesy of The Wellcome Collection
Shabnam Shabazi

Shabnam Shabazi is an interdisciplinary 'artivist', a maker and enabler of creative projects, working across a range of art forms through a solo and collaborative arts practice. In her solo practice she works with objects, video, digital media, text, performance and installation. Collaboratively working with artists and non-artists in different communities spotlighting them and enabling their interests. Participation and creating platforms giving voice to uncomfortable issues are central to Shabnam's practice, animated by the interstices and intersections between art forms and cultures. Exploring notions of site-specific, subverting use of existing spaces and committed to a 'without walls' approach. Her signature theme is 'home'. Ongoing research explores the idea of 'body as house'; the 'artistic practice of exorcism', and 'art as a guarantee of sanity'.
www.shabnamshabazi.com
Shabnam Shabazi, Photo by Guido Mencari.
Joseph Morgan Schofield

Joseph Morgan Schofield is a performance artist and writer. Articulating their practice as 'queer ritual action', their work, which foregrounds the immediacy of the sweating, bleeding, wanting, sensate body, is broadly concerned with desire, particularly in relation to ecology and futurity. They offer performance as a technology of divination; a place of mourning, yearning, processing and communing. Understanding acts of gathering and communing as central to their practice, Joseph's work incorporates curating, producing, facilitating, mentoring and teaching. They are the co-founder of VSSL studio (London, UK) and the Assistant Director of ]performance s p a c e[ (Folkestone, UK). Joseph has performed throughout the UK and Europe.
www.josephmorganschofield.com
devotion : seduction, Venice International Performance Art Week 2020. Photo by Fenia Kotsopoulou.
F U T U R E R I T U A L

F U T U R E R I T U A L is a research and performance project considering the use, place and function of ritual in contemporary queer and performance cultures, and the relationship of these cultures and practices to futurity.


F U T U R E R I T U A L positions ritual as a technology of speculative transformation, and queer ritual action is understood as a method for divination and augury - as a way of mapping, visioning, fabulating or otherwise embodying future potentialities. A future ritual might function by gesturing towards or manifesting or otherwise calling forth these alternate states, these other ways of being.

The project is a lab for performative research by lead artist Joseph Morgan Schofield and other invited artists.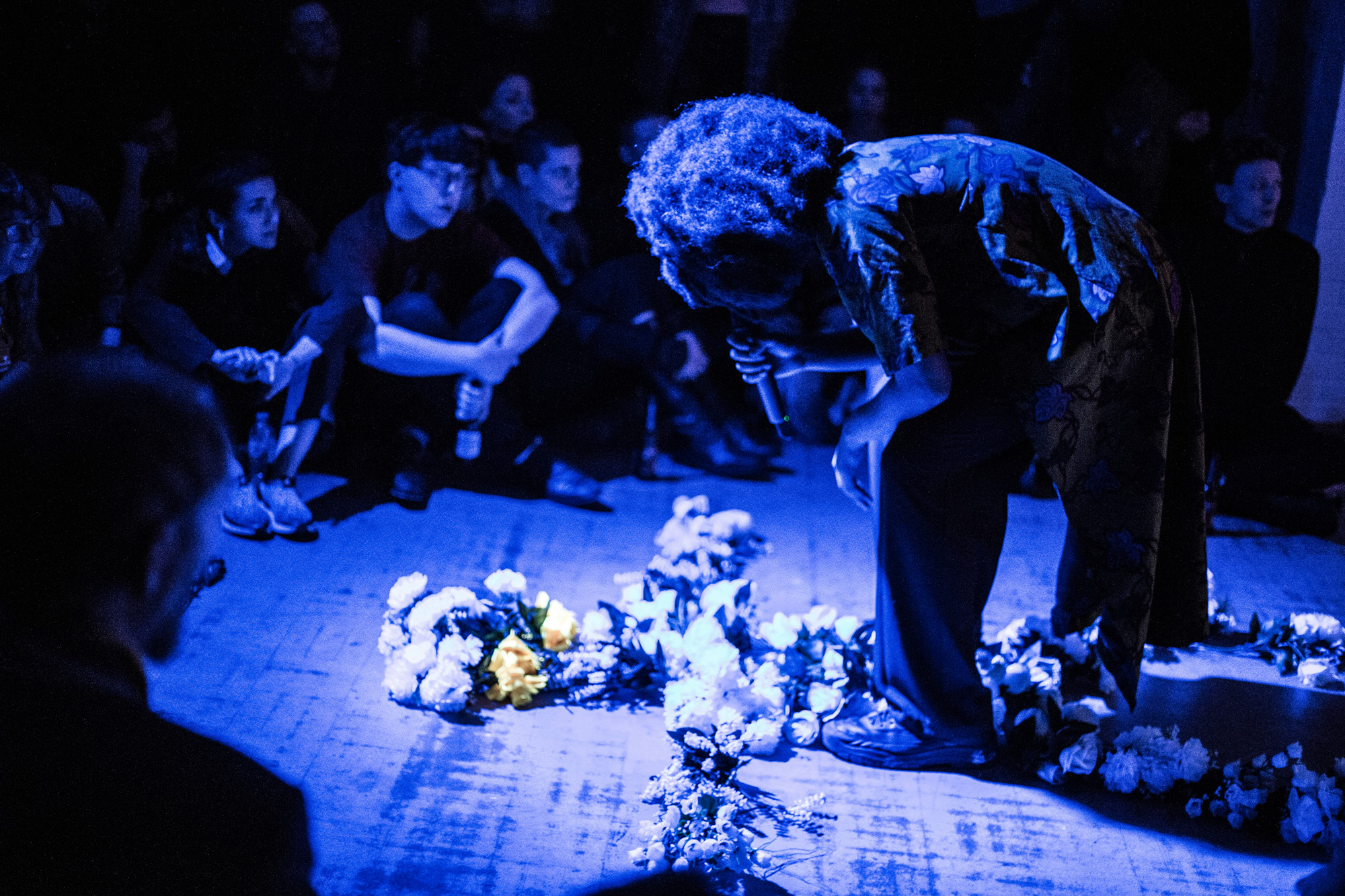 ]performance s p a c e[

V SS L collaborates with ]performance s p a c e[, operating as a London-based venue partner and platform.

Currently based in Folkestone's Creative Quarter (Kent), ]ps[ cultivates time-based work that critically and physically pushes the boundaries of body, time and space.

]ps[ strives to act as a hub to national and international artists - developing the performance art network, while acting as a place of research, development and education - outside of mainstream institutions.

We are commit­ted to supporting challenging and difficult work that embraces performance art as an ever-evolving medium.

]performance s p a c e ['s mission is to facilitate the prime conditions for the production of performance art in the UK (and beyond), while expanding an understanding of the medium through education.