Decrypting Performance Art

Rocío Boliver
a one day seminar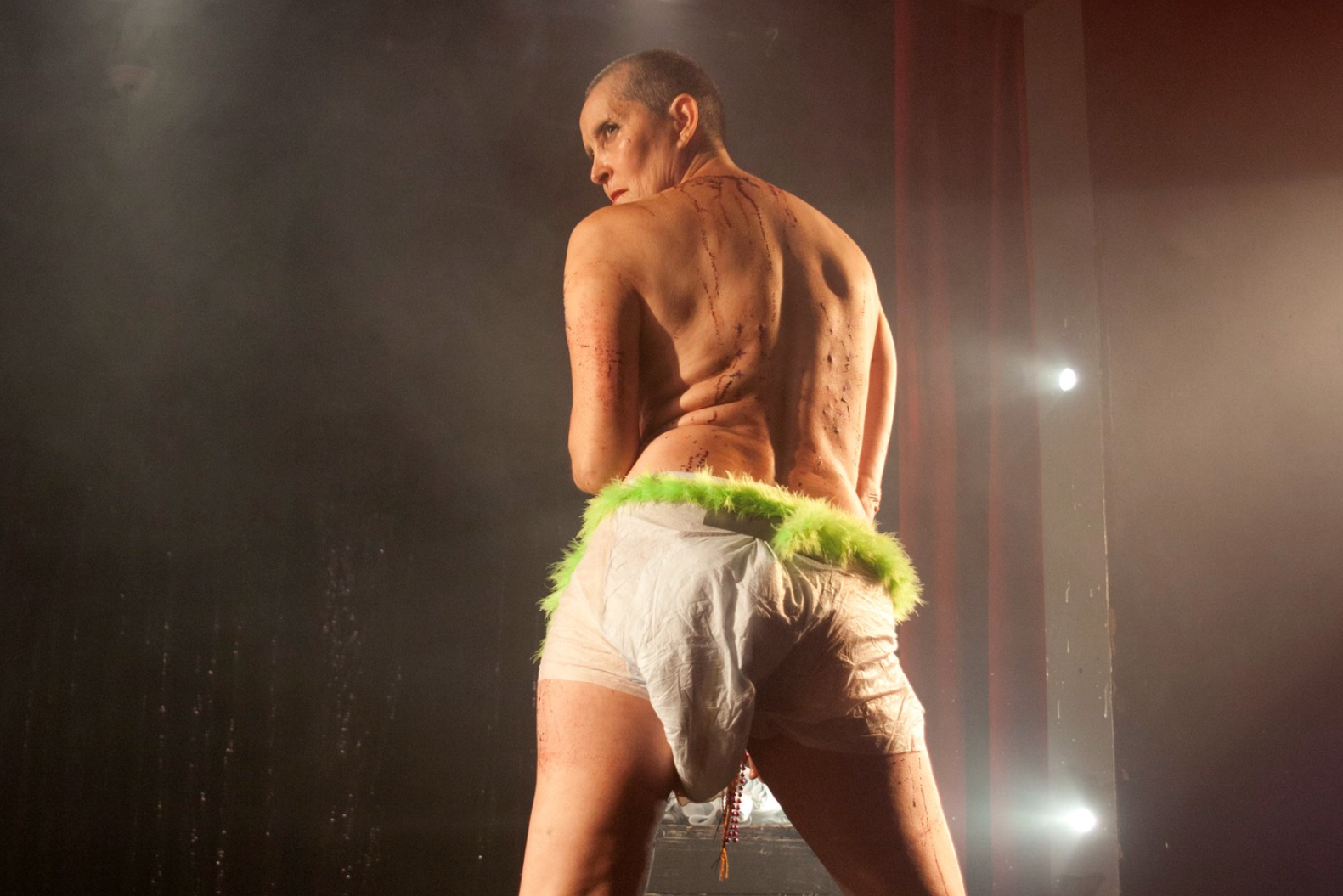 Rocío Boliver, image courtesy of the artist.
Decrypting Performance Art
is a one day seminar led by Rocio Boliver, reflecting on key performances (via photographic and video documentation) they have created across the last 30 years of practice.
For this seminar, the artist invites 25 participants to spend the day with her as she examines five recurrent themes which continue to shape the aesthetic and surrounding discourse of her work: Pain, Excretions, Sex, Old-age & Politics.
In addition, Rocio will elucidate upon the three core aspects of their personal, performance art making methodologies: the Pre-performance, Performance & Post-performance moments. Rocio will share intimate details of these making processes through lively discussion with participants.
Biography

"
I devote myself to transgress limits. I dig into human behaviour. I disrupt accepted reality, absurd as the one I situationate. I was born a seductive Nabokov's "Lolita". I lived censorship, scolding, fear and guilt, typical of a repressive society. I break the conventional woman scheme. My aesthetic is grotesque, in search of severity. I'm a human reaction voracious hunter, consumer and provocateur.
"
- Rocio Boliver
Rocio has presented her work in Europe, Asia, North and South America. Since 2012, Rocío's performances have focused on the ageing female body – a body, and a body of work, that she describes as 'between menopause and old age'. She aims to aims to demystify the horror of old age in an ironical way, inventing her own deranged aesthetic and moral solutions for the problem of age. She revels in the cultural unease the ageing female body tends to provoke, and she embraces, on the one hand, shame, disgust, and embarrassment, and on the other, pleasure, laughter, and great beauty, in often dizzying and un-navigable recombination.
Opening Hours

Sunday 9 October, 12pm to 6pm
>
Location & access
>
info@vssl-studio.org
Tickets
Tickets are offered on a sliding scale from £10 to £25. All revenue raised goes directly to the artist and we encourage those who can pay a little more than the £10 minimum to please do so as this enables us to continue making our work available to all.
>
Wait List

]ps[ will retain a handful of FREE tickets, if you are unwaged/financially precarious please contact benjamin@performancespace.org to secure one of these limed free tickets.
Credits & Contact

Decrypting Performance Art
is conceived and convened by Rocio Boliver and produced by ]performance s p a c e [ with support from the Live Art Development Agency and VSSL Studio.
Organiser contact:
benjamin@performancespace.org
VSSL studio
Enclave, 50 Resolution Way
Deptford, London, UK
SE8 4AL
Contact: info@vssl-studio.org
Join our
mailing list
& follow our
Facebook
&
Instagram
.
VSSL studio logo design by Ben Normanton.
---